CORONAVIRUS SARS COV-19 UPDATE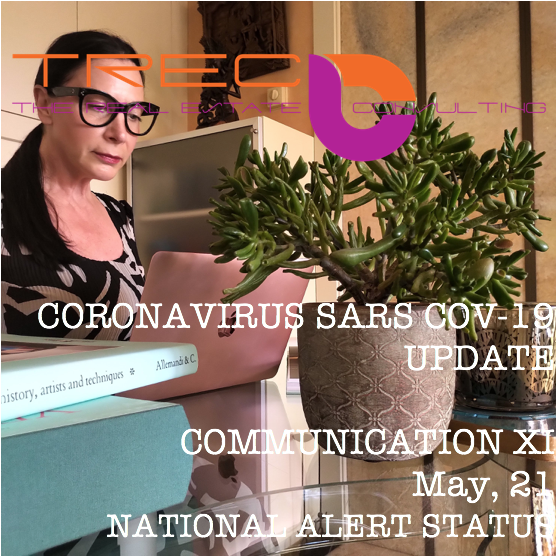 SARS-CoV-19 ADDITIONAL MEASURES
🏚#StayHome #StaySafe #StayPositive
21-V-20 – BARCELONA, SPAIN.
I wrote the first internal communication on Covid-19 in February from the hospital while my husband and partner was battling between life and death (not because of the virus). Every day, hours of remote work and uncertainty lead me to cry alone and think what was important in my life, to delegate and value teamwork in difficult moments. When he was discharged from hospital on March 12, I closed TREC Barcelona's facilities and went into confinement for our first national alert status the next very day. Still unconscious of the socio-economic crisis magnitude that was coming down the line, and following a comprehensive costs study, I considered that to maintain an adequate business structure and to continue to serve customers' needs, we should take action to get rid of unimportant expenses and no longer reduce, but finish our March and April salaries in order to avoid adjusting the staffing if we wanted to convey the individuals within our business family their jobs safety. A temporary decision, without the right to access any aid or measure driven by any administration or supply company.
I reached today's calibrated decision to extend this measure to May and June because in the organization that we promote individuals rule and it requires a large workforce.
From June on, God will say. I'm convinced we're going to make it and we're not giving up.
I do remind you of the importance of taking all possible precautions to avoid becoming infected.
You matter us. We do care about you.
Stay healthy & strong.
TREC Barcelona. A team that works for you.
Written by Adelaida Subías
Copyright Renovatio & TREC Barcelona
Editing & producing by Renovatio©